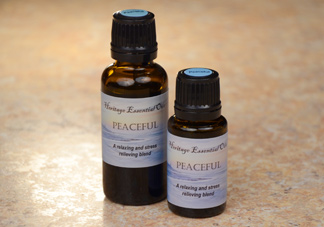 4 Product Reviews - Average rating / 5
(Show All)
---
Click to write a review about this diffuser
---
Diffusing Peaceful is Incredible

PD - 04/28/2012

My husband and I have been diffusing Peaceful at night and rubbing some on our feet. We have slept incredibly well. My husband doesn't wake up during the night. If I wake up, I go immediately back to sleep. Great stuff!

---
Wonderful Bed Time Oil

Susan - 03/27/2012

We purchased Peaceful for our child with ADD, but discovered that when daddy applies the oil on him at bedtime, daddy doesn't snore! I'm ordering a double-size bottle because everyone in the family loves this blend!

---
Love it!

Linda - 02/02/2012

Our daughter who has Down Syndrome loves this blend and so do we. Before her bedtime, we put a drop in her palm. She rubs her palms together and then offers to rub them on our cheeks. It's a wonderfully relaxing blend.

---
Sleeps so Much Better!

Ashley - 11/24/2011

I purchased this blend for my autism spectrum child, but my husband also likes it. In fact, when we were running low, he urged me to be sure and get more before it ran out. He sleeps so much better when he uses it!

---
Click to write a review about this diffuser
---