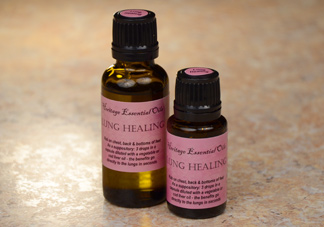 2 Product Reviews - Average rating / 5
(Show All)
---
Click to write a review about this diffuser
---
Wounderful Healing Oil

J.H. - 10/19/2011

My 15-year-old son with Down Syndrome, has for the past 14 years had to go to the hospital for pneumonia anytime between February and May. Sometimes more than once. This was the first year with NO pneumonia, and so far it has been 15 months with no hospital stays. The only thing different this year has been that we've used Lung Healing and Respiratory Relief. We applied it topically to his chest nightly with jojoba oil and diffused it in his room while sleeping. Thank you.

---
Amazing!

S.W. - 06/08/2011

I have been using the Lung Healing on my little one, rubbing it on her chest, back and the bottoms of her feet. ("Tickle feet!" she says!) She was very congested when I tried it and having a lot of trouble breathing through her nose as well as the coughing from the bronchial asthma. I could tell a difference in her breathing almost immediately. The oils are amazing. Truly a gift from the Lord!

---
Click to write a review about this diffuser
---