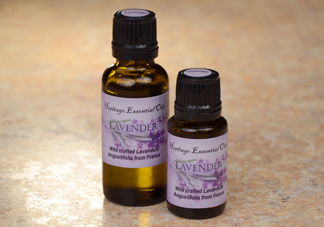 3 Product Reviews - Average rating / 5
(Show All)
---
Click to write a review about this diffuser
---
Lavender oil is my new best friend!

L.W. - 04/28/2012

I have used it on myself for skin blemishes by directly putting the oil on the blemish, and it never gets big or becomes a full-on pimple - ever! I've used it on my temples and the back of my neck for headaches and around the outside of my ears for earaches. I even rubbed it on my teething 10 month old's gums when teething. It worked wonders!

---
I LOVE essential oils!

Joy S. - 04/05/2012

My son burned his hand on a cast iron skillet. It was not terribly burnt, so I applied Lavender essential oil on him to hopefully ease the pain and stop the screaming. Within minutes of a healthy coating of Lavender, he was snapping his fingers and smiling!

---
High Quality Oil

W.H. - 01/27/2012

I used Young Living Lavender for years before trying some of Heritage's Lavender. In my opinion, yours is a far superior oil. Ear issues that would not resolve using YL Lavender, resolved once we switched to yours.

---
Click to write a review about this diffuser
---